1488 Lucasville Road, Hammonds Plains Material Yard 902-471-2704 Office 902-835-8044

We are CLOSED for the 2021 Season.Thank you to all our customers for a fun summer and hope to see you in the Spring Have a save Winter
We Deliver In Small Trucks & can do split loads. 4 cubic yards maximum on ether side of the divider (2 materials on one delivery ). No Tandems. We Can Carry From .5 Of Cubic Yard To 8 cubic yards of heavy material ( gravel , soil , stone ) and 15 Cubic Yards of Mulch . We can Take M/C, Visa , Debit, Cash at your door. Delivery rate depends on your location


Lawn & Garden Soil, Red & Black Dyed Mulch That Is water solvent biodegradable pigmented & fire resistant . Natural Aged Mulch. Stone, Drainage, Compaction, Decorative, Sand, Aggregate
We sell material by the bag, by the 5 gallon pail and by our tractors scoop that is 1/2 cubic yard ( 13.5 cubic ft ) A Cubic Yard is 27 cubic feet (3ft high x 3ft long x 3ft wide) We Specialize in loading small trucks and trailers with our Small loader

U Bag $ 4.00 Small Bags & $ 6.00 for Large Bags. We have the bags & shovels u fill them. We have 15 kg bags of Lime $ 6.00 , White Stone 2 kg bags $ 11.00 ,White Sand 20 kg bags $ 9.00

NO Sods at this time. 0.483 per square tax included 4.5 square $ 2.17. 5.5 square $ 2.65 & 9 square $ 4.35 also by the pallet

Dyed Mulch. Black or Red is Dyed Product That Needs Time To Dry The Dye After Spreading To Lock In The Color before Rain
Check out our prices listed below. All our prices
include
HST
Come Grow With Us at Mike Herman & Sons Landscaping Materials
A Family Run Business Since 2003
1488 Lucasville Road, Hammonds Plains, Nova Scotia
mikehermanandsons@gmail.com
1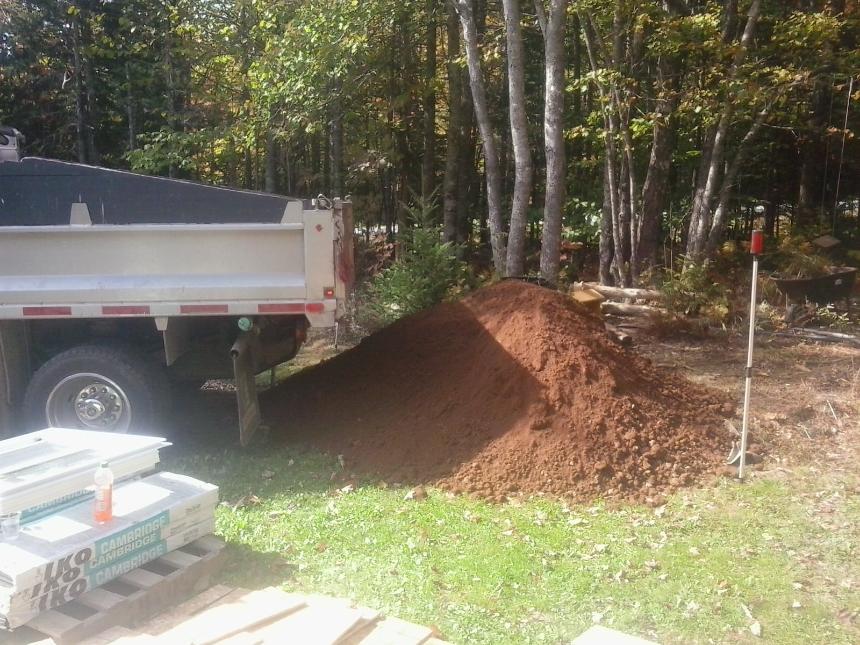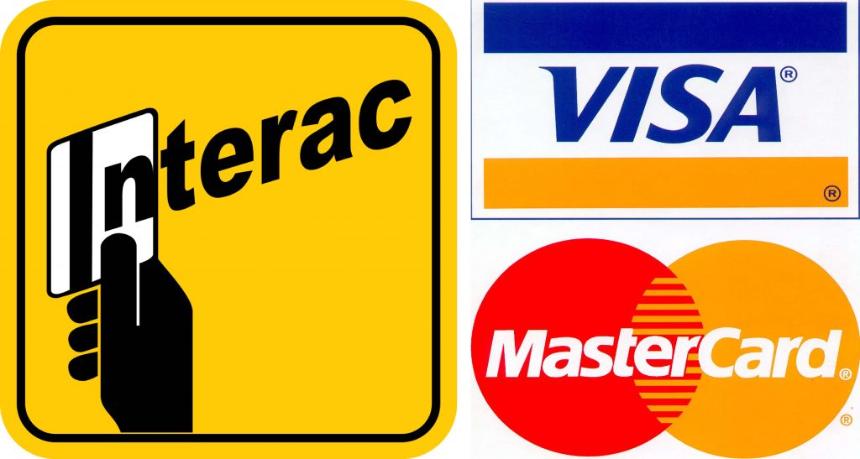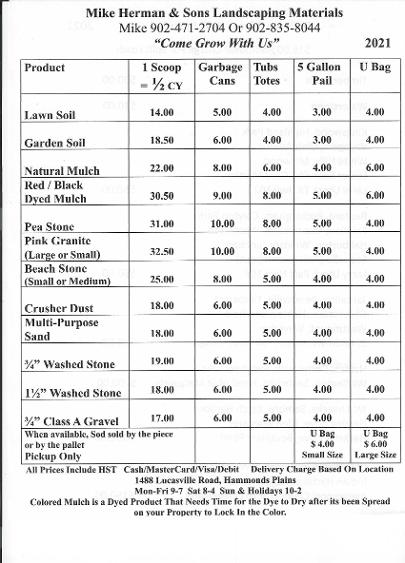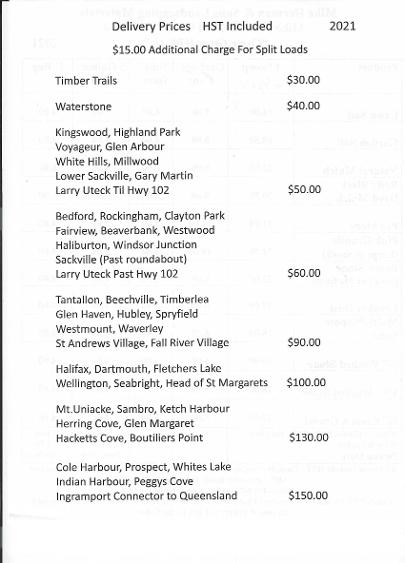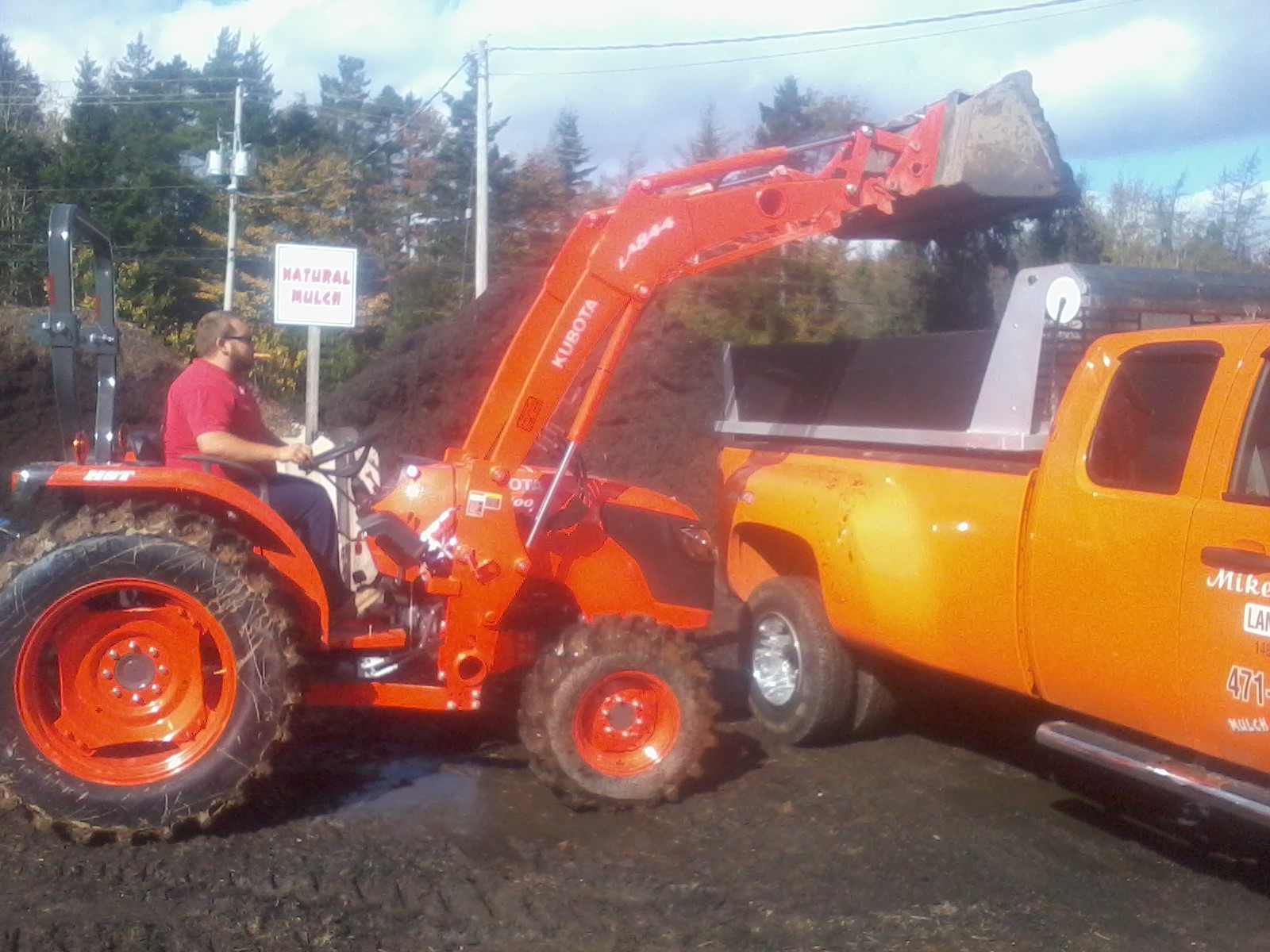 Some of the materials we offer for pick up or delivery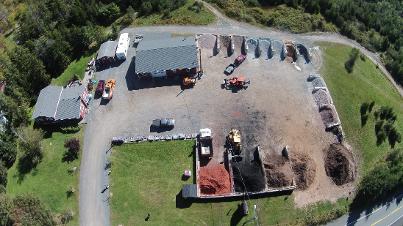 About Us
Mike Herman & Sons Landscaping Materials is a small family business opened in 2003. Located in Lucasville and serving the surrounding areas selling different types of material for your home and garden.

We have a small tractor with a small bucket ( .5 of a cubic yard scoop & also a 1 cubic yard bucket) to fit small trucks & trailers. Also we have two small trucks for delivery. Give us a call

We carry a wide selection of landscaping materials for you to use around your home or spruce up your property.
We have Topsoil and so much more:

Our Soils are trucked in from Windsor N.S daily
Top Soil for your lawns.


Garden mixed soil for your gardens.

Natural Aged Mulch,

Black & Red Dyed mulch that is bio-degradable fire resistant .


Class A gravel for driveways.

1 1/2" & 3/4" washed gravel for the jobs you need for drainage

.

Crusher dust or

sand

for pool p

ads & patio stones or paver stones.




Decorative pink granite,

Pea Stone and Beach Stone.

We are located at 1488 Lucasville Rd Just off the on the Hammonds Plains Rd close to the old Pin High Golf Course and Atlantic Splash Adventures